I'm so excited to begin my "Crochet Corner" series where I feature YOUR work using my crochet patterns and tutorials!  I put a lot of effort into trying to create the right shapes and meticulously writing down my patterns, and I always wonder if people will be able to follow them or if anyone will even try them at all!  And so, I'm always delighted to hear that people have indeed tried my patterns and I LOVE seeing pictures.  I think it's wonderful how people can interpret the same pattern differently and how each crocheted creation looks unique since people put their own touches on them!
The very first Crochet Corner will feature none other than Valentine Teddy!  This is the second original pattern I made and it was very soon after I started my blog (I started my blog in January 2011 and posted him in February).  I loved using the dog slicker brush to fuzz this guy up, and I'm so happy that he was well-received 🙂  Many people fell in love with him…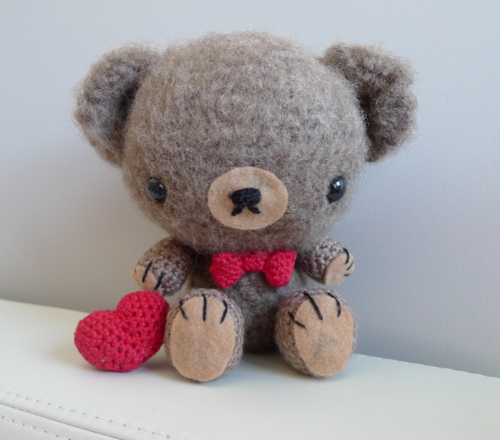 Kay of I'm Hooked was the very first person to show me her work using my patterns.  Since I had just recently started my blog, I was ecstatic that someone had actually used my pattern and was successful in creating their own teddy!  Kay had previous crochet experience making purses, clutches and mini makeup bags, but she had never made amigurumi before.  When she came across my pattern, she decided to try her hand at it with this teddy!  She even documented the whole process step-by-step in her blog post here which was also her first official tumblr post!  Kay was also the one who provided the pattern I used to make my Penguin here.  Kay has been on hiatus from her blog because she just gave birth to a baby girl in June- congrats, Kay!  I love the gray colour she used for this teddy since it's different from the typical brown.  His huge eyes make him look super adorable 🙂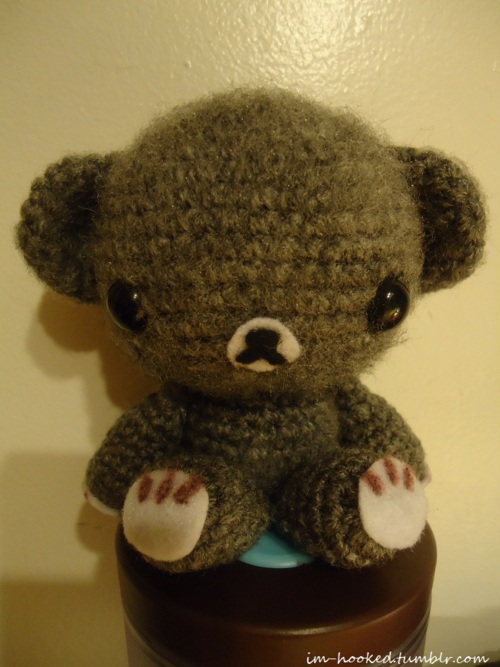 Irma of Our Useless Blog made her own rendition of Valentine Teddy all the way from Holland.  She used yarn that was fuzzy to begin with and in her blog post she talks about how challenging it was to use since it would frequently become tangled.  Despite having to make the body parts numerous times, she persevered and finished this super soft teddy!  I love how he turned out, Irma 🙂  He looks so cuddly!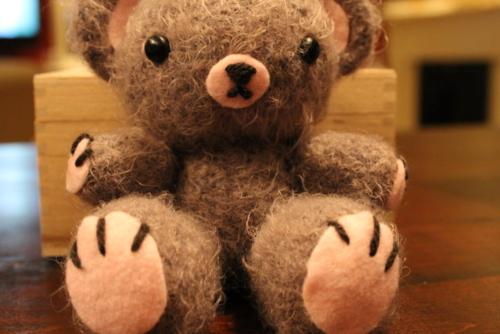 Yolanda of Alberta, Canada wanted to crochet a teddy bear for her boyfriend when she stumbled upon my pattern.  This was the very first amigurumi she ever made!  I love how she even made the dapper red bowtie and red heart to accompany him 🙂  Yolanda said her boyfriend absolutely loved this teddy she made just for him!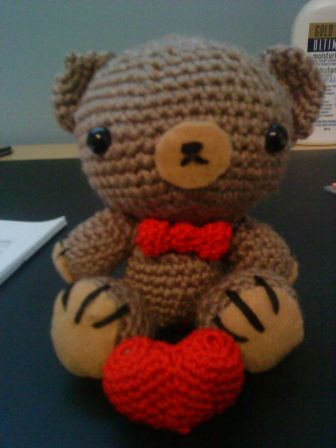 Serena of Malaysia made these two adorable teddies named Lexie and Ace during the summer when she had no school.  I absolutely love how she made Lexie a girl by placing the bow on her head 🙂  Serena actually went and found the exact same yarn I used which is why they look so similar to mine!  It's amazing because Serena had no previous crochet experience, but she watched many videos on youtube just so that she could learn to make these teddies!  Isn't that remarkable?  When Serena left the country for school, her mom asked if she could keep the teddies since she loved them so much.  She tells Serena that everytime she sees these teddies, she's reminded of her 🙂  Isn't that sweet?  Lexie and Ace make such a cute pair!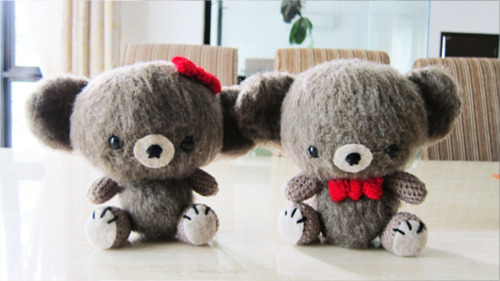 I love hearing the stories behind all these teddies, from what it was like making them to who they were given to.  All of the people in this post had very limited amigurumi experience, but look what they accomplished!  I find that very inspirational, and I hope you do too 🙂  If you've been hesitant about starting or wondering if you could do it, I'd strongly encourage you to give it a try!  Be sure to check out my "Amigurumi for Beginners" blog post if you don't know where to begin.  Making amigurumi is a fun hobby, and they make such great, personalized gifts.  Everyone's creations turn out differently, and even people with no crochet experience can make such beautiful amigurumi! 
If you did not see your Valentine Teddy in this post, that means he'll be featured in another upcoming post 🙂  Please feel free to keep sending me pictures and telling me the stories behind them (e-mail all_about_ami@hotmail.com, post on my facebook page or tweet me)!  Or, try making them for the very first time!  The pattern for my Valentine Teddy can be found here.  Happy crocheting, and thanks for sending in your pictures and sharing your stories, everyone!